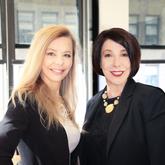 P&K Mediation
27 Recommendations
P&K Mediation
United States
Locations Coverage
NationWide
Add to Case
Recommend P&K
Contact Information
6463898929
Information
Testimonials

14
Description of Practice
P&K Mediation has over 20 years of combined mediation experience assisting people in disputes. We are Court & Supreme Court certified and qualified to  assist parties in conflict by helping them avoid the web of litigation through the facilitation of the construction of  a mutually acceptable and agreeable solution.  We help parties save money (court costs and attorney fees), time, resources, energy, and aggravation. Our services restore relationships. Call us and take the first step toward resolution. 
The Smart Path To Resolution.    www.pkmediate.com

CALL 646-389-8929
ONLINE MEDIATION

Our offices: Greater New York area & Port St. Lucie - Florida. Or alternatively we can travel to the clients location. 

Languages: Spanish, French, Portuguese and Hungarian.

Our areas of expertise:
Commercial
- Business and Contractual 
- Insurance Claims and Coverage Disputes
- Workplace and Organizational conflicts
- Residential and Property Disputes  

Family
- Divorce
- Pre and Postnuptial agreements
- Parenting, Custody-Visitation
- Elder Care and Estate matters
- Parent-Child & Siblings
Mediation Training
Basic Mediation Training
Divorce Mediation
Family Mediation
Advanced Divorce Mediation
Conflict Coaching
New York & Florida Court Approved Mediators
Mediation Approach & Philosophy
We believe every mediation has is own personally, so we tailor each mediation to meet the parties' needs. We implement various elements of facilitative, transformative, narrative, and e-mediation techniques to allow the parties themselves to design their own agreement.
Representative Cases Handled as a Mediator
Family & Commercial.
Complex Case Experience
Divorce, Elder care, Commercial, Residential, maritime,  multicultural and international.
Fees
Starting $380.00/h, minimum of two hours per session. Pre-mediation 45-minute Phone Consultation is free.
References
Information available upon request.
Stats
Number of Cases Mediated
1000+
Number of Multi Party Cases Handled
100+
If you have any questions about this profile or even some suggestions about what you want to see from Mediatorselect, we'd love to hear from you ! We read every idea, advice and complaint. Send Feedback
Save yourself from hiring an attorney… save tons of money, perhaps your children's inheritance by hiring P&K Mediation!
Carla Ferming , 2023
Highly recommend P&K Mediators. I am familiar with their work, and personally observed their abilities in difficult cases while in Mediation with them as a party, they are both extremely skilled Mediators. They are well prepared, professional, insightful, and have people skills. Their sound judgment to intervene at the right times made of them indispensable ethical professionals. MDuffy.
M Duffy , 2023
P&K Mediation is number one in the country and in the world. I have sent a few of my clients to them, and I got great feedback. I have heard recommended some complicated and complex international cases, and the have resolved them all beautifully. No wonder they are the top-ranked in the US.
Renata V , 2023
Mediators who are active listeners, effective and detail oriented professionals. I thought before we entered Mediation that we would not settle. They helped us break through the impass stage and thrive in a full agreement! Truely remarkable. Congratulation to their success!
Jeremy Myers , 2023
A million dollar contacted created and settled with Susan & Dorothy saved our company so much money. My mother-in-law has used their services for a family issue, and she had recommended them. Top notch professionalism, the best Mediators I have met in all my 35 years of career. A.Gordon
A Gordon , 2023
Our family has peace of mind again thanks to the services of P&K Mediation. Custody and visitation plan is perfectly drafted by them. I highly recommend Susan & Dorothy.
Maria K , 2023
An amazing experience. We resolved our business issue in one session. Super recommend them. I am back in business fullforce thanks to P&K Mediation!
Maria S , 2023
10 stars out of 5.
J McGuire , 2023
I recommend P&K Mediation at any time. They are trusthworthy and effective. So glad I chose them, I will chose them again if I ever need them.
Selena Ungerer , 2023
The Perfect Mediators!
M Pittsford , 2023
PK Mediation is highly knowledgeable and trustworthy. Every client that I have sent their way has been extremely happy with the job that they did. they are Mediators that you can trust to do the job.
Devin H , 2023
P & K Mediation was a great experience. we successfully resolved our real estate dispute in two sessions. In court, it would have taken months and lots of money to resolve it.
Jacob G , 2023
I was surprised by the effectiveness and speed of the process in which P & K conducted business with us. I highly recommend their services at any time.
M Pittsford , 2023
PK Mediation is one of the best mediation firms in New York, (if not, the very best) and they have also successfully mediated cases in Florida. They are highly regarded by both defense and plaintiff's attorneys. They successfully mediated every case I have referred to them. - Maria S.
Maria S , 2023
Mediation Practice Areas
Business/Commercial
Community
Complex Cases
Construction
Cross Cultural
Education
Elder
Employment
Energy
Entertainment/Sports
Environmental
Family/Divorce
Government
Health Care
Hospitality
Insurance
International
Judge (Retired)
Labor
Landlord/Tenant
Online Mediation
Personal Injury
Professional Malpractice
Real Property
Transportation
Trusts and Estates
Workers Compensation
Workplace
Degrees
BA, MA, JD
Law LLM
Professional Services
Mediator
Facilitator
Mediation Consultant
Collaborative Professional
Mediation Trainer
Languages
English
French
Hungarian
Portuguese
Spanish
If you have any questions about this profile or even some suggestions about what you want to see from Mediatorselect, we'd love to hear from you ! We read every idea, advice and complaint. Send Feedback
Contact Information
6463898929
Mediation Practice Areas
Business/Commercial
Community
Complex Cases
Construction
Cross Cultural
Education
Elder
Employment
Energy
Entertainment/Sports
Environmental
Family/Divorce
Government
Health Care
Hospitality
Insurance
International
Judge (Retired)
Labor
Landlord/Tenant
Online Mediation
Personal Injury
Professional Malpractice
Real Property
Transportation
Trusts and Estates
Workers Compensation
Workplace
Degrees
BA, MA, JD
Law LLM
Professional Services
Mediator
Facilitator
Mediation Consultant
Collaborative Professional
Mediation Trainer
Languages
English
French
Hungarian
Portuguese
Spanish