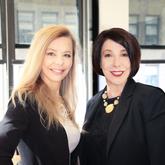 Petza & Kaldi Mediation
4 Recommendations
Petza & Kaldi Mediation
Manhattan, NY
United States
Locations Coverage
NationWide
Add to Case
Recommend Petza & Kaldi
Contact Information
6463898929
Information
Testimonials

0
Description of Practice
Petza & Kaldi Mediation has over 17 years of combined mediation experience assisting people in disputes. We are CDRC certified and qualifed to  assist parties in conflict by helping them avoid the web of litigation through the facilitation of the construction of  a mutually acceptable and agreeable solution.  We help parties save money (court costs and attorney fees), time, resources, energy, and aggravation .

CALL 646-389-8929

Our offices: Greater New York area, Long Island, Westchester and New Jersey. Or alternatively we can travel to the clients location. 
Languages: Spanish, French, Portuguese and Hungarian.
Our areas of expertise:
Commercial
- Business and Contractual 
- Insurance Claims and Coverage Disputes
- Workplace and Organizational conflicts
- Residential and Property Disputes  

Family
- Divorce
- Pre and Postnuptial agreements
- Parenting, Custody-Visitation
- Elder Care and Estate matters
- Parent-Child & Siblings
Mediation Training
Community Mediation Services, Jamaica, New York
New York Center for Interpersonal Development, NY, New York
Basic Mediation Training
Mediation Approach & Philosophy
We believe every mediation has is own personally, so we tailor each mediation to meet the parties' needs. We implement various elements of facilitative, transformative, narrative, and e-mediation techniques to allow the parties themselves to design their own agreement.
Representative Cases Handled as a Mediator
Family & commercial.
Complex Case Experience
Divorce, Elder care, Commercial, Residential, maritime,  multicultural and international.
Fees
Starting $380.00/h, minimum of two hours per session. Pre-mediation 45-minute Phone Consultation is free.
References
Information available upon request.
Stats
Number of Cases Mediated
500+
Number of Multi Party Cases Handled
100+
If you have any questions about this profile or even some suggestions about what you want to see from Mediatorselect, we'd love to hear from you ! We read every idea, advice and complaint. Send Feedback
This mediator does not have any testimonials.
Mediation Practice Areas
Business/Commercial
Community
Complex Cases
Construction
Cross Cultural
Education
Elder
Employment
Energy
Entertainment/Sports
Environmental
Family/Divorce
Government
Health Care
Hospitality
Insurance
International
Judge (Retired)
Labor
Landlord/Tenant
Online Mediation
Personal Injury
Professional Malpractice
Real Property
Transportation
Trusts and Estates
Workers Compensation
Workplace
Degrees
BA, MA, JD
Law LLM
Professional Services
Mediator
Attorney Mediator
Facilitator
Mediation Consultant
Collaborative Professional
Mediation Trainer
Languages
English
French
Hungarian
Portuguese
Spanish
If you have any questions about this profile or even some suggestions about what you want to see from Mediatorselect, we'd love to hear from you ! We read every idea, advice and complaint. Send Feedback
Contact Information
6463898929
Mediation Practice Areas
Business/Commercial
Community
Complex Cases
Construction
Cross Cultural
Education
Elder
Employment
Energy
Entertainment/Sports
Environmental
Family/Divorce
Government
Health Care
Hospitality
Insurance
International
Judge (Retired)
Labor
Landlord/Tenant
Online Mediation
Personal Injury
Professional Malpractice
Real Property
Transportation
Trusts and Estates
Workers Compensation
Workplace
Degrees
BA, MA, JD
Law LLM
Professional Services
Mediator
Attorney Mediator
Facilitator
Mediation Consultant
Collaborative Professional
Mediation Trainer
Languages
English
French
Hungarian
Portuguese
Spanish