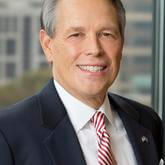 H. Mills Gallivan
1 Recommendation
Gallivan, White & Boyd, PA
Greenville, SC
United States
Add to Case
Recommend H. Mills
Information
Testimonials

0
Description of Practice
Mediation and Arbitration of personal injury and commercial matters. Service as a mediation and negotiation consultant in complex matters, and also service as a Special Referee. 
Professional Background
Vanderbilt University, BA 1973
University of South Carolina, School of Law, JD 1976
President of the South Carolina Defense Attorneys Association, 2002
President of the National Foundation for Judicial Excellence, 2012/2013
President Elect of the Federation of Defense & Corporate Counsel, 2015/2016
Mediation Experience
Certified Mediator and Arbitrator 
Mediation of over 1,000 cases in the last 10 years

Mediation Training
Certified Mediator and Arbitrator by the S.C. Board of Arbitrator & Mediator Certification
Mediation Approach & Philosophy
Almost all of the cases I mediate are in suit and therefore an evaluative process is usually the most effective way to reach a resolution. I bring 40 years of litigation experience to the table along with reputation for fairness, insight and creativity. My knowledge and working relationship with members of the local bar is very helpful as well.
Representative Cases Handled as a Mediator
Available upon request
Complex Case Experience
100+
Fees
I usually charge on a per diem basis; $1,850 for 1/2 day and $2,750 for a full day, no travel or other charges in addition. Hourly rates are negotiable based on complexity and the number of parties.
References
David Pearlman, The Steinberg Law Firm, Charleston, SC
Alan Cochran, The Cochran Law Firm, Greenville, SC
Nick Haigler, at Sowell, Gray & Laffitte , Columbia,SC
Joshua J. Metcalf at Foreman Perry, Jackson, MS
Hugh McAngus, McAngus, Goudelock & Currie, Columbia, SC
Stats
Number of Cases Mediated
500+
Number of Multi Party Cases Handled
50+
If you have any questions about this profile or even some suggestions about what you want to see from Mediatorselect, we'd love to hear from you ! We read every idea, advice and complaint. Send Feedback
This mediator does not have any testimonials.
Panels & Associations
National Association of Distinguished Neutrals
Degrees
BA Vanderbilt University, 1973 and JD University of South Carolina, Law School
Professional Services
Mediator
Attorney Mediator
Mediator-Arbitrator
Arbitrator
Mediation Consultant
If you have any questions about this profile or even some suggestions about what you want to see from Mediatorselect, we'd love to hear from you ! We read every idea, advice and complaint. Send Feedback
Panels & Associations
National Association of Distinguished Neutrals
Degrees
BA Vanderbilt University, 1973 and JD University of South Carolina, Law School
Professional Services
Mediator
Attorney Mediator
Mediator-Arbitrator
Arbitrator
Mediation Consultant